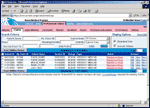 Click thumbnail to view screenshot
Security Administration System
HC MedNet's Security Administration System allows each organization to specifically define their team's access to the HC MedNet system. To accomplish this, you designate a Domain Administrator for your organization. The Domain Administrator is then able to do the following:


Grant your team members access to the system

Customize what each staff member is able to do within the system

Reset passwords

Prohibit staff members' access to the system


With the HIPAA regulations for Privacy and Security, HC MedNet is committed to your compliance with these regulations when using our system.

Eligibility Inquiry
HC MedNet's Eligibility Inquiry Service affords you access to patient benefit information from over 90 payers. We offer several different methods for making these inquiries:


Direct Data Entry (DDE) Single Entry: Enter patient information directly on-line via our website and get an immediate response from the payer for that inquiry.

DDE Batch Entry: Enter several eligibility requests in rapid succession in a single batch interactively on our website. Then submit the entire batch of inquiries all at once. Responses for all inquiries will be available on the website in a few seconds.

Reduced-Data Batch Upload: Generate a report of tomorrow's scheduled patients along with their data of birth, subscriber ID, and insurance company name. Then upload that report to HC MedNet's website. Our system will then automatically generate eligibility inquiries for each patient on that report and display benefit information on the site in a matter of seconds.

Full-Data Batch Upload: If your practice management system is capable of producing an X12 270 transaction or HC MedNet's flat-file version of the 270, you can submit that transaction to our Web site for immediate processing by HC MedNet.
Claims Processing - Print File Capture, HIPAA 837, Proprietary Formats
Claims Processing Batch Submission - HC MedNet's flagship product - allows providers to integrate any current practice management system with HC MedNet's electronic claim filing process. With this easy-to-use system, there's no need to re-type information as the system accepts data from existing practice management systems in NSF, Print File Capture, ANSI X12 837 (HIPAA), or other data formats.

Another great feature is that the system allows multiple file submissions instead of submitting each claim separately. To use the system, simply log in to the HC MedNet member site, locate the batch file on your system (or type the filename), and click Submit. That's all there is to it! HC MedNet does the rest.

An alert notifies the HC MedNet system that a batch has been submitted. Your batch files are then converted to an acceptable electronic payer format and submitted to the PPO and/or individual payers. Furthermore, with direct batch submission, the average claims processing cost is significantly less than traditional or paper claims processing, or competitive offerings!

Claims Processing - Direct Data Entry
The HC MedNet service for DDE claims processing provides everything you need to enter and submit a claim via our private, secure website. This easy-to-use feature addresses a primary need for a practice management system. All you need is Internet access and a Web browser to enter all of the necessary information directly into our system.

When your claims are entered, they are electronically delivered to the appropriate payers. In the process, they are checked for any errors, such as a discharge date that precedes the admission date or a diagnosis code that does not suit the case. Such errors prompt an immediate return for adjustment, saving weeks or months of delays. Most rejected claims are returned the same day that they are submitted!

Claims filed through HC MedNet are normally received and paid within days. Additionally, once a patient's initial information has been entered, it is always there. No re-entry of background information is needed.

Claim Response System
Most clearinghouses and claim processors merely pass the payer's acceptance/rejection report back in a text format, leaving you to search the claim for acceptance or rejection information. With HC MedNet, our impressive Claims Response System "reads" the payer responses for you and stores the acceptance/rejection information with each individual claim.

In addition, all responses are presented in one easy-to-read standard format directly on our secure site. Consequently our customers are not burdened with the time-consuming task of pouring over reams of various text-based reports formatted differently from each payer.

Electronic Remittance Download
HC MedNet can arrange to retrieve Electronic Remittance files from payers and make these files available to you in our File Download area. With this Electronic Remittance file and with the appropriate module in your practice management system, you can automatically create payment and adjustment records in your Receivables system from the data in this file. There are several benefits to this service:

With the appropriate module in your practice management system, you no longer have to manually key in these payment and adjustment entries. It can all be done automatically.


No fighting with telecommunications equipment, modems, file transfer protocols, etc. Simply download the Electronic Remittance file from our Web site.


Files are available to be downloaded for 30 days. You may download these files at any time during this 30-day period, as often as you wish.


HC MedNet retains a log of every time a user within your organization downloads a file from the File Download area, auditing this function for your control.



CPT-4 / ICD-9 Code Maintenance
HC MedNet continues to develop innovative ways to supply simpler provider solutions that are fast, affordable and secure. This includes HC MedNet's time saving CPT-4 and ICD-9 Search Service. By using this easy to use product, you eliminate thumbing through the book or looking for the CD to cross match valid codes. With our CPT-4 and ICD-9 Search you can now search by code or by description. The system even offers the ability to flag frequently used codes for quick retrieval.